It's fundraiser time!!!!
Fundraiser donations are used to provide grants to staff to fill classroom needs, provide technology to the school, fund school improvement projects, provide direct support and appreciation to staff, as well as, fund additional programming. 100% of the money raised benefits all students and staff at North Gwinnett Middle!
Any donation amount helps us reach our goal. Thank you for supporting our Dollar$ for Dawg$ fundraiser  DONATE NOW!!!!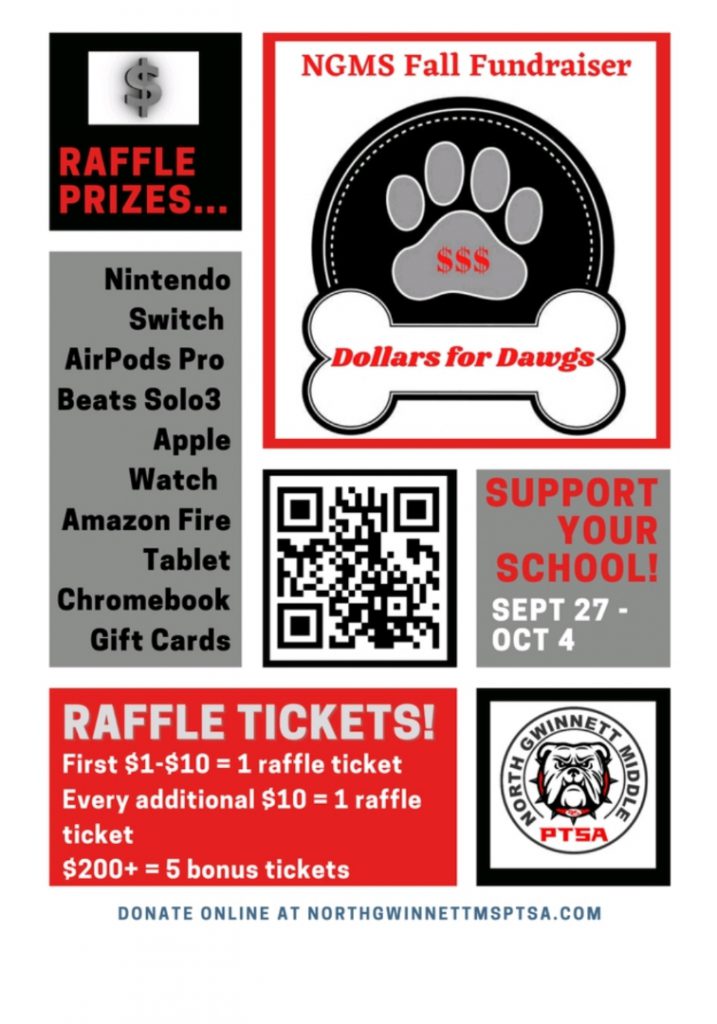 KICKOFF – Monday, September 27
Students will receive a flyer in homeroom.
Online donations will open. We will be collecting from Sept 27th – October 4th..
HOW WILL THIS WORK?
Donations will be accepted through our Member Hub "store".
Click this link to be taken to the store. https://northgwinnettms.new.memberhub.store/store
Enter a donation.
Look around and see if you want to order some spirit wear!
Have your student share the link with family members.
If your company matches donations, share the link with them.
HOW IS THIS DIFFERENT FROM PAST YEARS?
We understand that many things look different this year and we are incorporating that into our fundraiser as well. The ONLY incentives we are offering students will be raffle tickets based on the amount of donations they bring in. We will have some prize drawings during lunch. We are also offering a grant for teachers whose homeroom has 100% of students bring in at least one donation. Those teachers will receive a grant for 10% of the total amount their class raises, so your child's homeroom teacher may offer additional classroom based incentives.
STUDENT INCENTIVES:
Raffle drawing prizes
Every student's first donation between $1-$10 will earn one raffle ticket
Each additional donation in increments of $10 will receive an additional raffle ticket
Students who earn a total of $200 or more will receive 5 bonus raffle tickets.
All student names will be entered into a random generator program for raffle drawing. The number oftimes a name is entered will be equal to the number of raffle tickets earned.
Prizes include: Apple watch, Apple Air Pods, Apple Air Pods Pro, Apple iPad, Nintendo Switch, Amazon Fire Tablet, Chromebook, Beats 3 headphones, gift certificates (Top Golf, Andretti, Steam, Roblox, Chick fil a, Starbucks, Stars and Strikes) and more!